Caffeine mainly affects neurotransmitters (transmitters of nerve impulses). These substances transmit information from the brain to the body and vice versa. Based on this information, we feel drowsy or wake up, we feel hungry or full, etc. Caffeine affects several neurotransmitters and its effect is manifested:
reduces appetite

- sends signals to the brain that we are not so hungry

increases lipolysis

( breakdown of fat cells) - fat cells begin to break down and convert into energy

increases metabolism

- the energy received is not converted into fats in the body but remains as energy that can be released in the form of heat. This is one of the main reasons why coffee wakes us up and gives us energy.
In Optimum EuropaJoe you will find concentrated caffeine, which is much more effective than regular caffeine. However, caffeine-free is not the only substance that this special coffee contains
L-Tyrosine - an

amino acid that reduces appetite, promotes the production of dopamine and nonadrenaline, thus improving mood and preventing depression and anxiety, and has a beneficial effect on the pituitary gland, adrenal glands and thyroid gland.

Chronium picolinate

- this ingredient maintains optimal blood sugar levels, lowers cholesterol and suppresses the appetite for sweets.
Carefully selected ingredients of Optimum make this coffee an excellent helper in the fight against excess weight . You don't have to give up cups of your favorite drink and at the same time you can do something for your health and better figure.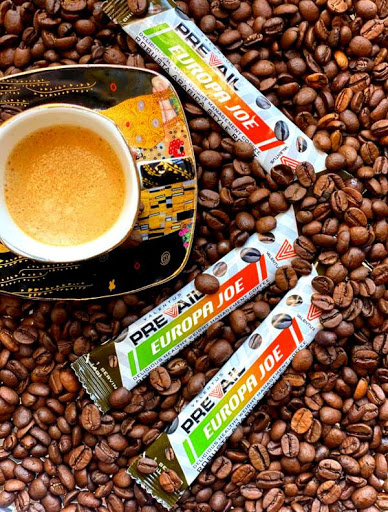 CAN'T IMAGINE A DAY WITHOUT A GOOD CUP OF COFFEE?

CAN'T IMAGINE A DAY WITHOUT A GOOD CUP OF COFFEE?

EUROPA JOE ROASTED COFFEE OPTIMUM.
The sight of its delicious aroma and taste will pull you out of bed . A cup of coffee will kick you in the afternoon and a cup of coffee with friends will be useful for relaxing after a busy day. But what can you say about coffee, which hides all the above-mentioned benefits plus will help you lose weight?
WEIGHT LOSS COFFEE
If you indulge in coffee with sugar and milk or whipped cream every day about a drink that will help you lose extra pounds, there can be no talk. But if you reach for roasted coffee Optimum EuropaJoe, we are already talking about a drink that will help you lose weight . And not just with him
ROASTED COFFEE EUROPA JOE
Everyone drinks coffee mainly because it contains caffeine, which has stimulating effects on the body. In EuropaJoe you will find caffeine as well, but not just any.
CAFFEINE ANHYDROUS (ANHYDROUS CAFFEINE)
caffeine and anhydrous caffeine have the same chemical composition, the only difference being in their form. Anhydrous caffeine is obtained by dehydrating plants and grains that contain caffeine. Other chemical processes produce caffeine, known as

caffeine

anhydrous. And because this caffeine is more concentrated, it is also more effective.